| | | |
| --- | --- | --- |
| | | |
| | Hardware Tools | |
| | WDC's 65xx microprocessor developer boards are reference designs for your Embedded System Development or System-on-Chip (SoC) Development for either the GDSII or Verilog RTL core usage. We provide a FREE, digital form of the boards in our PCB Design Kit. These kits may be downloaded and used to jump start a design that uses features of the Terbium/65xx technology. WDC also has developed Terbi for use with our IP for FPGA/PLD designs and ASIC Emulation. WDC's latest ViaUSB Interface board was developed to provide USB software development/debug features to boards using the a W65C22 VIA device. | |
| | | |

FPGA Based ASIC and PLD Development Board - Terbi-ECP2Mulator or "Terbi" (5" x 4")
Terbi was designed as a hardware emulation platform for ASIC design and development with WDC's 65xx Technology.
Features of Terbi-ECP2Mulator
Lattice ECP2M−50 FPGA with 48 kLUTs, 4147 kbit of Embedded Block RAM, 22 sysDSP™ blocks, 88 18x18 multipliers,10 PLLs, and 270 user I/O pins
Lattice MachXO™ with 640 LUTs and 6.1 Kbit of RAM
USB 2.0 connector and integrated ispDOWNLOAD® cable for JTAG programming the FPGA
Flywire connector for programming using an ispDOWNLOAD cable (available separately from Lattice)
USB 2.0 compatible host connectors for interfacing with WDC's ProSDK Development Tools
SATA interface with two LVDS signal pairs for high-speed data transfer
Altera Santa Cruz compliant connectors (2 x 40) providing 46 lines of I/O Expansion
100−pin "MESA" connector compliant with T&MT USB PHY Standards
28−pin expansion header for I/O. Compatible with WDC's Parallel IO Board
LCD connector for character displays, with contrast potentiometer
38−pin MICTOR connector for high speed Logic Analyzer connection
25 MHz oscillator with clock distribution buffer
4−pin DIP half socket for user selected oscillator
One HEX Rotary Switch
Dual Character 7−segment Display
8 Activity LEDs
8 Test Points
4 Pushbutton switches for debug and user input
Green LED to indicate the proper operation of the 3.3V and 2.5 V power supplies
Blue LED which shows the configuration status ("DONE")
Red LED to signal that the FPGA can be configured ("INIT")
Yellow LED indicating the FPGA PROGRAM# I/O is asserted ("PROGRAM#")
Program key to initiate the configuration sequence of the FPGA from SPI Flash memory
Reset key
5V power supply
Switching regulator for the generation of the 3.3V I/O voltage and the 1.2Vcore voltage
Robust power configuration with jumper selections to power board with either of the two USB ports or the DC input jack
Download Terbi User Guide
65xx Software Development Interface Board - ViaUSB (2" x 1")
WDC's Edu/ProSDK tools now support a USB interface for downloading application code to the target. This interface was developed to work with the W65C22S VIA and our GPIO RTL IP. Terbi comes with a built in USB interface using the FTDI FT245R USB FIFO IC and WDC's GPIO IP Module. For WDC's chip based devloper boards and other boards using a W65C22 VIA chip, WDC has created the ViaUSB Interface board. The ViaUSB has a with a 28-pin connector that mates with WDC's developer boards and APATCO's EB50 Single Board Computer. A cable can be made to go from your system and the ViaUSB. The ViaUSB board provides both a development interface to the Edu/ProSDK software and the ability to power the system board from the USB 5V supply. A reference design document has been created to explain the functionality of the ViaUSB board and how to get up and running with it and the Edu/ProSDK.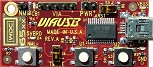 Download ViaUSB Reference Guide
Download ViaUSB Schematic
65xx Chip Based Development Boards (6" x 4")
WDC has four Chip Based Development boards. Click on the board below for more information. The design files for these boards are also available in the PCB Design Kit.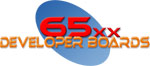 W65C02DB


The W65C02DB features the W65C02S – a low power, cost effective 8–bit microprocessor.






W65C816DB


The W65C816DB features the W65C816S – a 16–bit microprocessor for extended memory addressing.






W65C134DB


The W65C134DB features the W65C134S microcontroller – a complete 8–bit computer.






W65C265DB


The W65C265DB features the W65C265S microcomputer – a complete 16–bit computer developed for Hi–Rel applications and where minimum power is required.





Xxcelr8r Board Schematics: