| | | |
| --- | --- | --- |
| | | |
| | Terbium Developer Kits (TDK) | |
| | WDC's Terbium Developer Kits (TDK) provides the user with a complete kit to begin application development and familiarization with the reconfigurable and expandable 65xx programmable Verilog RTL technology family. Each kit is a minimal System on Programmable Chip example based on WDC's Verilog IP Cores. | |
| | | |
TDK Flow
The kit is a three part system consisting of:
1.) FPGA Based Developer Board
2.) Programmable MicroController Unit (PMCU)
3.) Software Development Tools.
The Interactive Flow Chart below shows the structure of the TDK. Click on the individual blocks for documentation and more information about each part.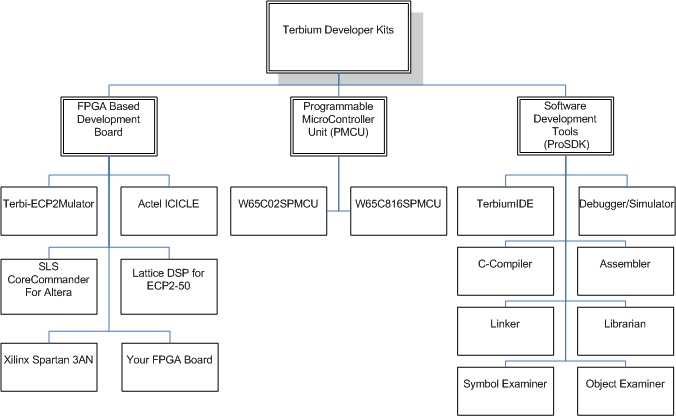 FPGA Based Development Boards
The hardware platform for WDC's TDKs is very flexible. The TDK can be customized to work with virtually any developer board. The most seemless board option is WDC's
"Terbi"
based on the Lattice ECP2M-50 FPGA. WDC has also chosen several standard FPGA vendor boards to work with.
Programmable MicroController Unit (PMCU)
The PMCUs are minimal System on Programmable Chip examples based on WDC's Verilog IP Cores. WDC currently offers two PMCUs with the following features:

W65C02SRTL Microprocessor (W65C02SPMCU Only)
W65C816SRTL Microprocessor (W65C816SPMCU Only)
32K x 8 FlashROM on chip (embedded monitor debug interface to ProSDK)
32K x 8 SRAM on chip
General Purpose IO modules (2 used for Parallel TIDE Port Interface, 2 for USB TIDE Port Interface, 1 for LEDs Interface, 2 for Dual 7-Segment LED, 1 for User pushbuttons and HEX Input)
Programmable Hardware Breakpoint for added in-circuit debug



Software Development Tools (ProSDK)
The software platform of the TDK is made up an easy to customize embedded monitor and WDC's ProSDK Tool Suite. The monitor provides in-circuit debug capabilities tethering the features of the hardware and ProSDK. The ProSDK Tool Suite provides all of the application development tools needed including: IDE, Instruction Set Simulator, Debugger, Assemblers, ANSI/ISO Standard C Compilers, Optimizers, Linker, Symbol Tool, and Librarian.